Hitman Entertainment offers many different lighting options as add-ons to REALLY enhance the guest experience at your event!  Order one option, two, or ALL THREE! Take a look below.
LIGHTING OPTION 1
Our most popular lighting option is the intelligent lighting by Chauvet that includes a mix of moveable head lights, wash lights, and par lights that can really light up a dance floor with multiple colors and patterns!  (In the photo below, a fog machine was used to enhance the light beams, however most venues in Ohio do not permit fog to be used inside.  The lights DO add a nice nightclub feel to any event however!)
This option is available for an additional $100 for the duration of the event. Note: For a TRUE nightclub feel, we highly recommend also adding the next package, featuring uplighting that can add a classy look to the walls of the venue early in the evening. But when the high energy dancing starts, it can add multiple lighting effects to the venue!


LIGHTING OPTION 2
Many like the classy look of uplighting, offered in YOUR CHOICE of colors.  The lights simply sit on the floor, shining beams of light upward, adding a touch of colorful light to the walls or pillars of the venue, as seen in the pictures shown below.
There are many different ways to utilize uplighting.  Some brides prefer them spread evenly around the venue walls.  Others want to light up the area behind the head table and the DJ area.  During the dancing portion of the evening, these lights can even change colors and pulse with the beat of the music if you wish to add a nightclub effect.

And yes, you CAN add the uplighting to lighting option #1 to really light up the venue!
Hitman Entertainment uplighting is available for an additional $100.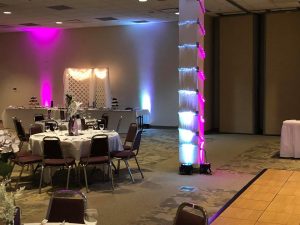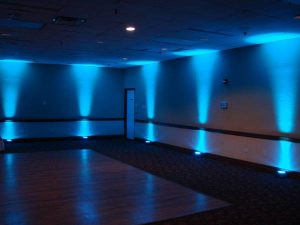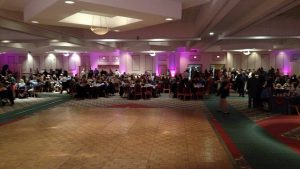 LIGHTING OPTION 3
PERSONALIZE your lighting by adding the gobo projector light! This simple but amazing option shines a beam of light on a wall, dance floor, or ceiling in the venue, featuring the names of the couple!  It can be personalized in any style, including adding the date of the wedding, perhaps a heart with their last name initial as seen below, or any other style.
For a personalized gobo including names, wedding date, etc., a special plate must be professionally made and custom ordered, so this option adds a bit more to the cost.  This light can be added for an additional $175.  (And since we obviously can't use it after your big event, the steel plate is given to the couple at the end of the reception!)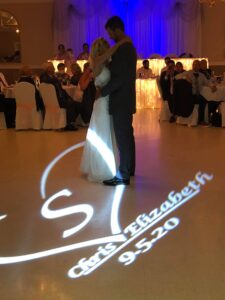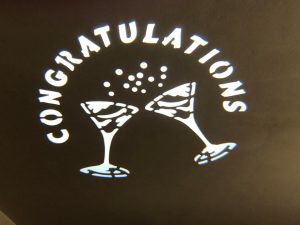 We look forward to making your event everything you've imagined, and more.
Contact us today.
Phone: 419-522-9013
E-mail: HitmanEntertainment1@gmail.com
Is your date available? See for yourself by using the booking calendar on the right section of this page.